Regular price
Sale price
$65.00 USD
Unit price
per
Sale
Sold out
Size: 15.5cm x 20.5cm (outer frame), 9cm x 13cm (inner frame)

Material: Motifs(Mizuhiki), Frame(Wood)

Style: Stand, Wall hanging

Because it is made of paper, it may discolor over time.
Falling or throwing the work may cause damage.


Shopping guide
Handmade

Shipping within 2 weeks

Eco-friendly packing
Share
View full details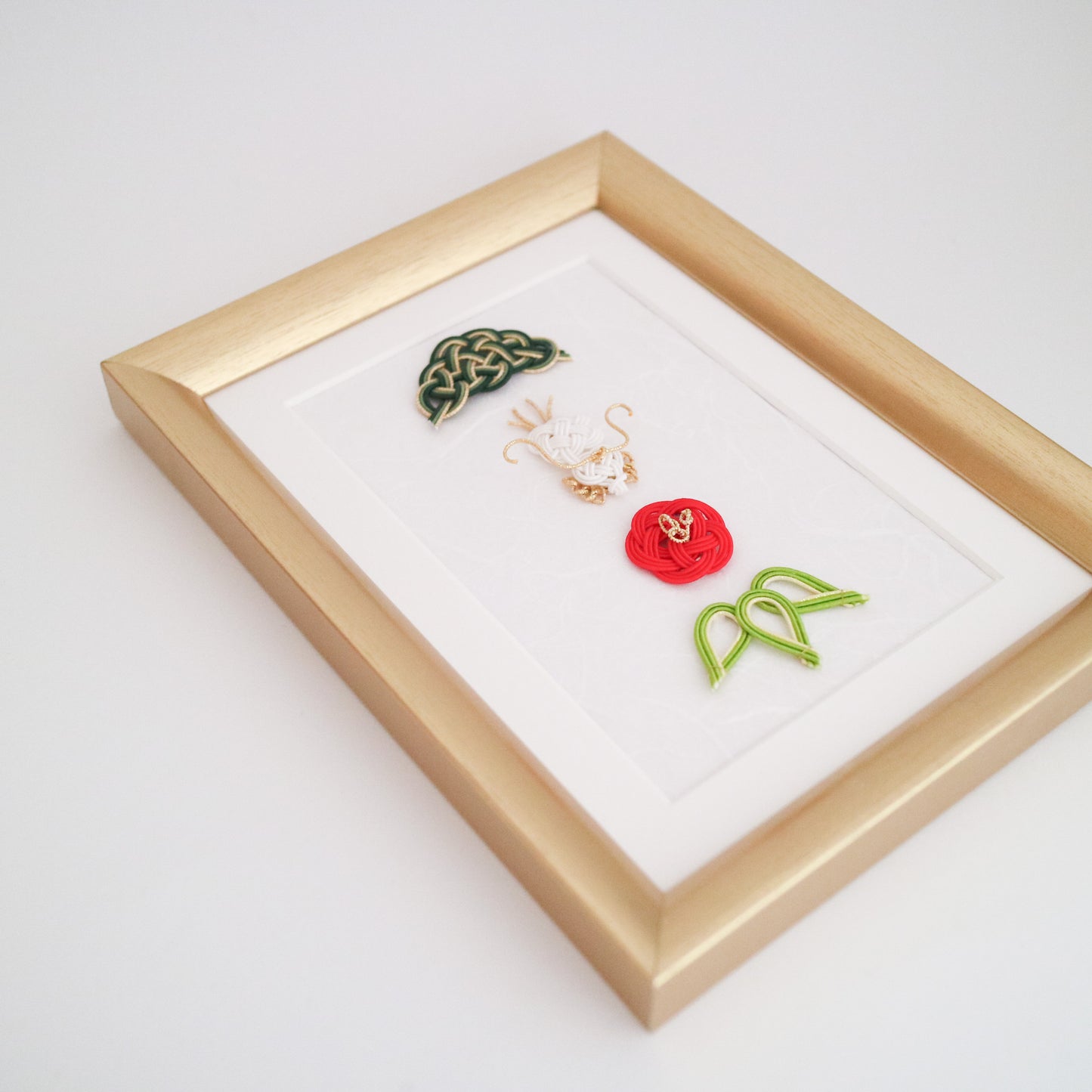 Shopping Guide


【Online store】

・Operation and shipping source

 Yuinobi Mizuhiki Art online store is based in NRW, Germany.

・Online store information

 The handmade jewelry online store is available for a limited time. You can shop only during the exhibition period.

 Yuinobi Mizuhiki Art will inform you about the exhibition period on this site and on our Instagram and Twitter accounts.

【Products】

・Made-to-order products

 Products are made after receiving your order and will be shipped within 2 weeks after payment is confirmed.

・Off-the-shelf products

 These are pre made products. After payment is confirmed, products will be shipped within 5 business days (excluding Saturdays, Sundays, and holidays).


・Specification of the products

 All products are hand made, so there are individual differences. Please see this page for materials and care methods.

【Payment】

・Payment methods

 You can pay by Shopify payments (Credit card and other payment methods) and Paypal.

・Shopify payments・Paypal

 If you do not receive an e-mail "Being processed" from our shop within 3 days after payment, please contact us using this form.


【Issuing receipts】

 If you would like a receipt, please enter the details in the remarks column at the time of purchase.

【Wrapping and packing】

・Normal wrapping and packing

 Accessories will be delivered separately in a cotton bag. In consideration of environmental issues and the offer price, we don't overpack.

・Gift wrapping

 If you want to use it as a gift, please fill in the remarks column at the time of purchase. I'll wrap in a simple way.

【Shipment】

・Domestic shipping

(Germany)
DHL Päckchen (WITHOUT tracking): €3,99
DHL Päckchen (WITH tracking): €5,49

 Above €50 of your purchase, the shipping fee will be free of charge (tracking included). 

・International shipping

(EU)
DHL Päckchen(WITH tracking) €8,99

(UK, Switzerland)
DHL Päckchen(WITH tracking)€12,49

(Other Countries)
DHL Päckchen(WITH tracking)€21,99

 Tracking outside Germany is obligatory in order to compensate for damage or loss during shipping. There is no additional shipping fee for multiple purchases. Expected arrival dates for international shipping are around 2 weeks. (It may take longer than expected due to unexpected circumstances, weather, etc.)

You can search for packages from the website of the post office in your country.

・Lost package

 Yuinobi Mizuhiki Art isn't responsible for any lost package.
・Customs duties

We will not compensate for customs duties related to the shipment of goods. Please understand.

【Returns and exchanges】

・Defective products

 If an item is defective, we will cover shipping costs and replace it with a non-defective item. Please contact us using this form within one week after the item arrives.

・Returns and exchanges

 We do not accept returns or exchanges unless the product is defective.

【Contact】

Please feel free to contact us using this form.
Care Instruction
Mizuhiki is a material made from Washi paper, which is directly painted or wrapped with rayon or chemical fibers. Due to the characteristics of Washi paper, please be careful not to let it get soaked or stained excessively. If it gets slightly wet, wipe it off gently with a towel and dry it in the shade so that it does not lose its shape.